Two Weekly Practice Opportunities

​Wednesday Evenings
​
​​
We meet every Wednesday evening at 7 PM. There is an instruction period from 7-7:30 PM, then a 30-minute silent insight meditation followed by a dharma talk and discussion. Appropriate for all levels of experience.

​​
Tuesday Midday
We also meet Tuesdays from noon to 1:00. The Tuesday format includes a brief instruction period, a thirty-minute period of silent meditation, and a brief period of questions and answers.
​
​​
Location
:
Tuesdays and Wednesdays
Park Road Baptist Church, 3900 Park Road, in the Milford Chapel.​ Please park in the back of the church and take the sidewalk to the second building on the left
.


​​

Please refrain from using perfume, aftershave or strongly scented lotions when attending IMCC events. This could be distracting to individuals with sensitivities, at the very least. Thank you

.
​
Attendance is open to all and free. You have the opportunity to make a financial donation that supports us in having a space for us to foster mindfulness, joy, equanimity, and compassion.



*Our community meets every Wednesday except for those days when Charlotte-Mecklenburg schools are closed due to inclement weather.
Volunteer Opportunities



​​Join our group of Volunteer Coordinators
They are crucial to making our Wednesday night meetings run smoothly. If you are new, this is a great way to get to know everyone.
​
For more information or to sign up, email Cathy Francis cathyfrancis@carolina.rr.com

Volunteer Suggestions Welcome
In the past, we have participated in community service projects with Dove's Nest and with the Coalition to Unchain Dogs. We always welcome ideas for other volunteering projects for our sangha.

​​If you have any projects you would like to investigate and take the lead in initiating, please contact either Maria Schutte at or Denise Owens at

ddherenow8@gmail.com​


​

Monthly Advanced Practitioners' Discussion Sessions
First Wednesday Evening of each month 6:45 – 7:25
​
This is an opportunity for those with an established practice to gather monthly with other sangha members for a question and answer session led by one of our Dharma Leaders. Hopefully, this will provide additional support for your meditation practice and an opportunity to share and learn from other practitioners' experiences.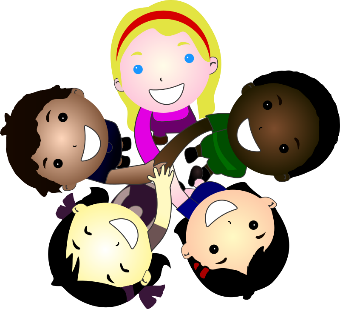 Kalyana Mitta (KM) Groups


​
Looking for a way to strengthen your practice? Consider joining a Kalyana Mitta (KM) Group. KM groups bring together sangha members to study and share practice experiences in a friendly, supportive environment. For more information contact Denise at
ddherenow8@gmail.com​

The Insight Meditation Community of Charlotte depends on volunteers to carry out its mission of making the Buddha's teachings available to all who seek them. Volunteering is an opportunity to extend loving kindness to your sangha, the community, and the world. It is an important way to give dana (Pali for generosity) to the sangha; it can open your heart and enrich your life. Volunteering also is a way to meet other sangha members.

Go to the new 'Volunteer' tab on our website IMCharlotte.org to learn more about our different volunteer opportunities and find contact information to contact to sign-up for an activity. Whether you are new to IMCC or a longtime member, we can always use your help.

Click here
http://www.insightmeditationcharlotte.org/volunteer.html
Service Opportunities

Check out the 'Volunteer' Tab on this Website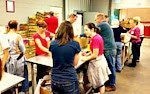 The following cancellation fee policy shall apply to IMC Charlotte events with event fees:

​General Rule - Registrants cancelling:
-- More than two weeks before the event incur no cancellation fee.
-- Within two weeks of the event but before the date of the event incur a cancellation fee equal to 50% of the event fee.
-- The day of the event (including no-shows) incur a cancellation fee equal to 100% of the event fee.

Exception, for Events Where Facility Cost is Calculated on a Per-Person Basis (e.g. annual residential retreat) - Registrants cancelling:
-- More than two weeks before the date on which the facility requires a head count incur no cancellation fee.
-- Within two weeks of the date on which the facility requires a head count incur a cancellation fee equal to 50% of the event fee.
-- After the date on which the facility requires a head count incur a cancellation fee equal to 100% of the event fee.


Policy on Cancellation Fees and Refunds
Insight Meditation Community of Charlotte


Upcoming Events

December 5................Guest Leader: Mary Aubry

December 15..............Sangha Winter Social

March 29 - April 1........2019 Spring Sangha Retreat

J​an. 15, 22, 29 &..........Tuesday Night Series:
Feb. 5, 2019 Insight Meditation - The Basics

March 29 - April 1..........2019 Spring Sangha Retreat

Guest Leader

Mary Aubry

Wednesday, December 5


Mary Aubry has been meditating and attending insight retreats for over 25 years. Her teachers have included Joseph Goldstein, Sharon Salzberg, Tara Brach, Leigh Brasington, Rodney Smith, Bhikkhu Analayo, and Gregory Kramer. In 2009, she attended her first jhana retreat with Leigh Brasington. In 2016, he authorized her to teach the jhanas in the tradition of the Venerable Ayya Khema. Since 2009 she has been a teacher with Insight Meditation Community of Washington, D.C.

Mary served for seven years on the Board of Directors of the Southern Dharma Retreat Center in North Carolina, attended the Dalai Lama's 2011 eleven-day Kalachakra for World Peace event in Washington, DC, and graduated from Spirit Rock's Community Dharma Leadership program in 2012. She co-taught IMCW's 2014-15 heavenly messenger program, "Sacred Journey: Being Present with Aging, Illness, and Dying" and developed and co-taught IMCW's True Refuge Companion Program, which offers in-home meditation companions for the aging, ill, dying, and bereaved in the IMCW community.

Currently, Mary teaches retreats nationally and internationally on insight, the jhanas, and the brahma viharas.

Sangha Winter Potluck Social

Saturday, December 15

7 - 9 pm




​
This is a wonderful way to get to know your sangha members AND their significant others!!!

Please bring a vegetarian dish to share and a beverage of your choice.
(Remember to bring a serving utensil.)

Date…………………Saturday, December 15
Time…………………7-9 pm
Cost………………….Free
Contact...........email Denise to RSVP & get directions: ddherenow8@gmail.com
Living in Openness & Freedom:

Developing Generosity, Loving-kindness, & Wisdom

Spring Residential Retreat

Friday, March 29 – Monday, April 1, 2019 (3 nights)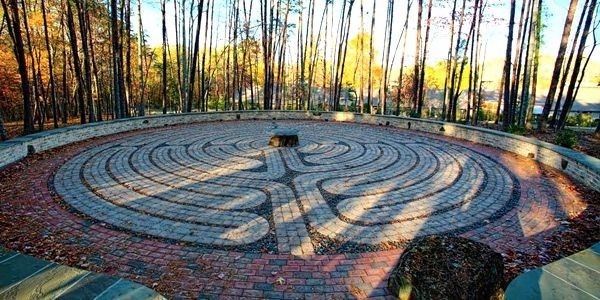 "I feel rejuvenated, hopeful, grateful." "The center was spectacular and beneficial to my practice." "I truly benefited from this retreat experience" "100% way cool." Comments from 2018 attendees

Join us as we practice ways to develop generosity, loving-kindness, and wisdom to counter the forces of greed, hatred, and delusion. This year's spring annual retreat at the St. Francis Springs Prayer Center will be for 3 nights, beginning at supper on Friday night and finishing after lunch on Monday.

There will be morning instructions, alternate sitting and walking meditation periods, and evening Dharma talks. There will be opportunity for private practice interviews. Our practice will be conducted in Noble Silence. Previous meditation experience will be helpful but is not required.

The $105 per night charge includes all meals (vegetarian), lodging (double occupancy), and tax. Scholarships are available. There will be an opportunity to practice Dana towards the retreat leaders.

Registration forms can be downloaded with this link.

To reserve a space, the registration form and deposit must be sent to

Ana Acosta (contact info on Registration form).



Contact Denise Owens with questions at ddherenow8@gmail.com
Join us for an evening of friendship, fun, and delicious food.
Are you new to insight meditation? Have you been practicing for a while, but unsure if you are "doing it right?" Have you been at it a long time, but would like to revisit the basics and cultivate "beginner's mind?" Don't miss this opportunity to get your practice started or to deepen your existing practice. Topics will include cultivating mindfulness and concentration, working with hindrances that arise during meditation, cultivating contentment, and taking our practice into our daily lives.

Dates............Tuesdays: Jan. 15, 22, 29 & Feb. 5, 2019
Time.............7 to 9 pm
Location.........Park Road Baptist Church, 3900 Park Road, Charlotte, NC 28209
Cost..............$40.00 registration fee plus Dana (donation) for the Leader
(Scholarships available. See cancellation refund policy at IMCCharlotte.org.)

To register or for additional information contact Ward Simmons at WardSimmons@bellsouth.net
Space is limited, so please register in advance.
Walk-in registrations will be accepted only if space is available.


Insight Meditation - The Basics

Tuesday Night Series

Jan. 15, 22, 29 & Feb. 5, 2019

Led by Ward Simmons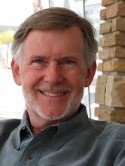 In 2019, IMC Charlotte will offer a Dharma Leader training program. The intention is to assist practitioners to develop the skills and experience necessary to become Dharma Leaders with IMC Charlotte. Dharma Leader responsibilities include teaching classes, multi-week series, study groups, and retreats, as well as participating in the rotation leading weekly sangha meetings.

Successful applicants will be active members of the sangha, have a well-established home meditation practice, be well-grounded in the teachings of the Buddha, and have participated in silent, residential retreats in the insight (vipassana) tradition. Program participants will be expected to participate fully in the program, subscribe to a code of ethics in their behavior, and intend to serve the sangha as a Dharma Leader upon graduation.

The first year of the two-year program will include monthly evening meetings and quarterly daylong sessions, homework assignments between sessions, and the opportunity to begin training as a meditation leader. The second year will involve periodic group meetings, working closely in a mentoring relationship with IMC Charlotte Dharma Leaders, and additional teaching opportunities.

The cost of the program will intentionally be kept low to make it more accessible and scholarships will be available. Participants will be expected to engage in the practice of dana (generosity) with regard to the teachers and mentors.

Applications will be available on the website on January 1; the submission deadline is February 1. Interested individuals are encouraged to use the month of December to reflect on their aspirations around teaching and to review the application when it becomes available for further details and guidance. Questions requiring responses before the application is released can be directed to:


Please complete our online 2019 annual membership survey.
It only takes a minute or two to complete. The IMCC Board reviews your responses and uses this input to plan new programs for the upcoming year.

Your input is very important

.
Please complete the survey by January 15.
Annual Membership Online Survey
IMC Charlotte

Dharma Leader Training Program

Coming in 2019 !!!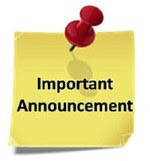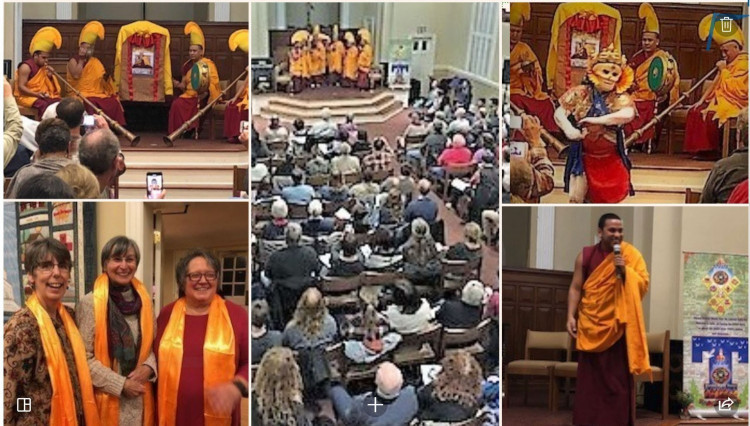 More than 170 people attended a special program Wednesday evening, November 28. The engagingly friendly monks chanted mantras, told stories of the difficult journey some of them underwent escaping from Tibet to India, and discussed Buddha's teachings of the Four Noble Truths, The Eight Fold Path, meditation, and impermanence. The monks performed the "Skeleton Dance," pointing to the teaching of impermanence. The enthusiastic audience then had a chance to ask questions.

One highlight was the monks presenting Cathy Francis, Genevieve Thyssen, Ana Acosta, Caroline Graham and Linda Reight with blessings shawls. They thanked everyone who helped them on this part of their tour, especially Joy LiBethe, who hosted them in her home as well as organizing special events, excursions, and a dinner in their honor.